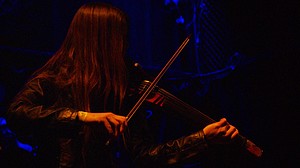 With lightning-fast fingers, soulfully expressive playing, and a love for shredding guitar solos, Diana Mayne electrifies audiences across the Chicago area and beyond. In her performances, you might catch her performing a graceful melody on her acoustic viola or a face-melting riff on her 7-string electric viola.
Ms. Mayne also writes original songs of her own, some of which she has recorded with her hard rock/metal band Sad Monster Party and Americana band Burnside & Hooker. She performs regularly with classic rock cover group The Johnny Burnett Band, using her electric viola to perform guitar solos by Prince, Santana, Clapton, Slash, Terry Kath, Walter Becker, and many others. With Beatles tribute act The Pepperland Rockestra, Ms. Mayne leads the string section and arranges all the string parts for the band. She has formerly played with the Chicago bands Candy Town (theatrical rock/pop) and Fionnghlas (Irish rock). In 2016, Ms. Mayne launched an ongoing recording project in which she writes songs for different artists to record and releases them on her Patreon site to a growing list of subscribers.
During her career, Ms.Mayne has had a variety of colorful performance experiences. To highlight just a few, she has opened for The Smoking Popes and Doyle Bramhall II, improvised the soundtrack to a Charlie Chaplin movie screening, played live on WGN Midday News, performed Shostakovich at a grocery store, and rocked out on a stage powered entirely by bicycles. Ms. Mayne's bands have also performed at such prestigious venues as the House of Blues, the Metro, Schuba's, Lincoln Hall, Reggie's Rock Club, City Winery, and more.
In addition to performing and writing music, Ms. Mayne greatly enjoys teaching violin and viola lessons to students of all ages, and maintains a large studio. Her own principle viola teachers were Christine Rutledge, Sally Didrickson, and Chuck Bontrager. Ms. Mayne earned her Bachelor of Music in Viola Performance at the University of Iowa, where she graduated Phi Beta Kappa with Honors in Music and High Distinction. During her studies, Ms. Mayne performed in solo master classes for such influential violists as Roberto Díaz, David Dalton, and Daniel Avshalomov. Ms. Mayne also studied orchestral playing at Brevard Music Center in North Carolina, and took a songwriting workshop class in Chicago from Mark Hudson. She is a member of the music honors society Pi Kappa Lambda, and was the 2007 winner of the Joanne Murphy Trautwein Music Scholarship in her hometown of Evanston, Illinois. Her acoustic viola was made by Martin Biller, and her 7-string electric viola was custom-made in 2014 by John Jordan.